Participating in Tuesday Tag-Along a couple weeks ago delighted me with finding new friends and receiving about 20 new followers!
Thank you! Thank you! Thank you!
Let's see who I get to meet this week. And for all you Non-Blogging Readers, peruse through the list below and click on the icons that look like fun to you. Don't worry about getting to them all at once. It's just not possible. This post isn't going anywhere, so come on back when you need to!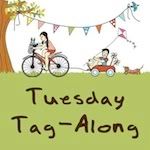 Have fun!