Welcome to this week's Tuesday Tag-Along blog hop, hosted by
Twee Poppets Review and Giveaway
! This is a great way to discover new blogs while increasing the number of followers for your own blog.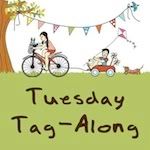 Click on that cute badge there to learn more about Tag-Along Tuesday and her really cool give-aways!
And take a few minutes to check out the blogs below. We all welcome new followers, so clicking the Follow button on a blog (including mine!) will totally make the blogger's day!